MOSCARILLO's 2022 Landscape Picks
With all this beautiful weather, we checked in with our nursery and talked to our horticulture specialists about some of their favorite picks for this season for landscape plants – Including what people are talking/asking about, what's popular, what's selling – Here are their tree & shrub highlights for the 2022 planting season:
Japanese Maples (Acer Palmatum)
Japanese Maples

(Acer Palmatum) – Some variations we carry: Crimson Queen, Orangeola, Red dragon, Blood good and more.  Japanese maples come in hundreds of different varieties in different sizes, shapes, and colors – they range from colors including purple, red, orange, green, and variegated varieties.  They are cold resistant and require little maintenance. They grow in full sun or part shade, but do best in part shade (that is where their brightest colors come out).  Some stand tall, others form a delicate weeping form, such as a weeping willow. 
They typically grow between 10-25 feet tall and wide, depending on variety, but do also come in dwarf sizes that grow between 4-15 feet.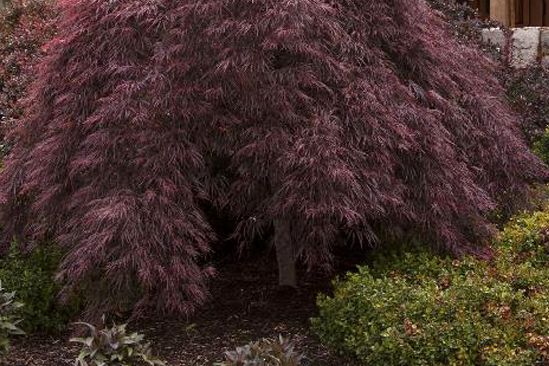 European Hornbeam (Carpinus Betulus 'Fastigiata') is an attractive, densely branched, columnar tree when young, aging into a stately, broad cone shape with handsome, fluted, gray bark. Distinctive, dark green foliage turns yellow-orange in fall. Plant in groups as a screen or windbreak, or use as a specimen in a narrow yard or street side. Takes well to hard pruning as a formal hedge. Reaches 35 to 45 ft. tall, 25 to 35 ft. wide, and prefers full sun.
They are well-proven tree for boulevards, parks and institutional landscapes. Nice shade tree for narrow suburban yards and for visually dividing closely placed multistory homes.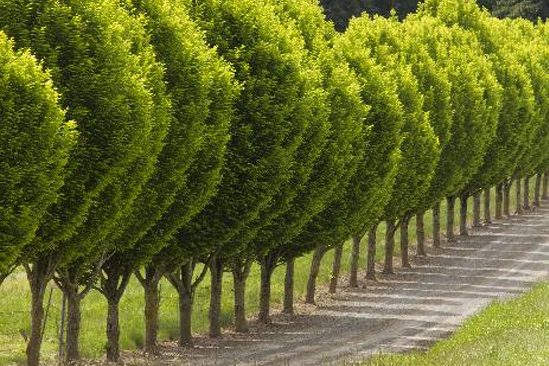 Deutzia "Yuki Cherry Blossom"
Deutzia "Yuki Cherry Blossom" – A shower of elegant pink flowers create a carpet of color on this unique new variety – With a neat, mounded habit and burgundy-purple fall color, this tough adaptable shrub is perfect for mass planting and makes an excellent groundcover for a sunny slope. It needs regular watering – weekly, or more often in extreme heat.
They reach 1 to 2 feet in height and width and are very adaptable to most soils; thrives in moist, well-drained, loamy soil. Best flowering in full sun. Water deeply, regularly during the first growing season to establish an extensive root system. Feed with a general purpose fertilizer in spring. Pruning is seldom needed but may be shaped immediately after flowering. Moscarillo's carries varieties of pink and white deutzia.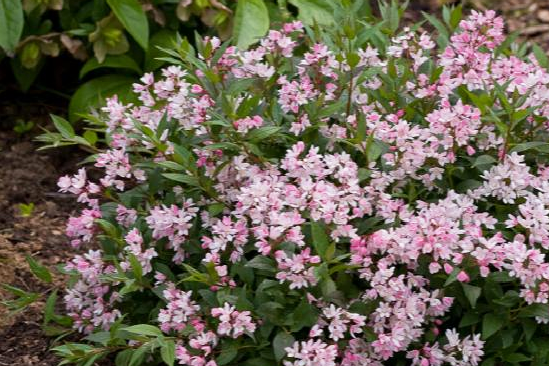 St. John's Wart (Hypericum Calycinum)
St. John's Wort (Hypericum Calycinum) are known for their bright yellow flowers, similar to 'sunbursts' of color.  They can be trees, shrubs, annuals, perennials, evergreen, or deciduous.  The blooms themselves are small, but there are tons of them nestled among rich green leaves, and can be used as groundcover.   They grow about 1 to 3 feet tall and wide, and have an upright growing habit, and prefer rich well-drained soil type. 
They prefer full sun or part shade, are low maintenance, and are even deer resistant, making them a great piece for landscaping.   They flower during June until fall, and then have attractive colorful berries.  They adapt well to both moist and dry soil, and can withstand drought conditions – they are very hardy. 
Pink and White Dogwoods – Profuse, large, overlapping, blush pink, flower-like bracts cover this small but vigorous tree in early spring. The fully branched habit provides layers of lush green foliage from bottom to top. A magnificent landscape specimen for small gardens or woodland settings. A sterile cultivar that produces no fruit.  Fast growing; reaches 20 to 25 ft. tall, 15 to 20 ft. wide. 
An elegant accent tree for high profile front yards whether planted in lawns or in beds with more diverse under planting.  Makes a stellar focal point in backyard landscape and will draw the eye from a distance, also good for shade and interest up close beside porch, patio or terrace.   Align with picture windows or sliding glass door to enjoy its seasonal changes from indoors.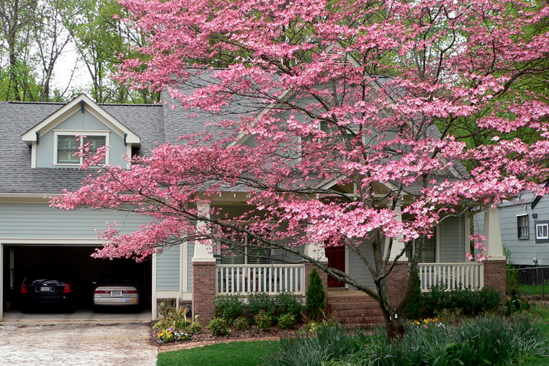 Interested in these or other landscape plants? Feel free to call our store at (860) 236-5487 to discuss purchase or delivery – Or if you are interested in having one of these or others installed by our team, click below to get started speaking with one of our landscape professions: