Need Privacy? Consider, Arborvitae!
Arborvitae are trees or shrubs (depending on type) that usually form in a pyramid shape with thick outer bark, fibrous inner bark, with horizontal branches and flattened spray like branch systems.  There are many types of arborvitaes, but ones we carry and love here at Moscarillo's include the Emerald Green Arborvitae, and the Green Giant Arborvitae. 
Want to plant these bad boys on your own? Read on!  
If you want to skip the hassle of planting and let us do the work for you, go ahead and click here to be redirected to our landscape services page.
Here are some basic steps to planning out planting your own Arborvitae: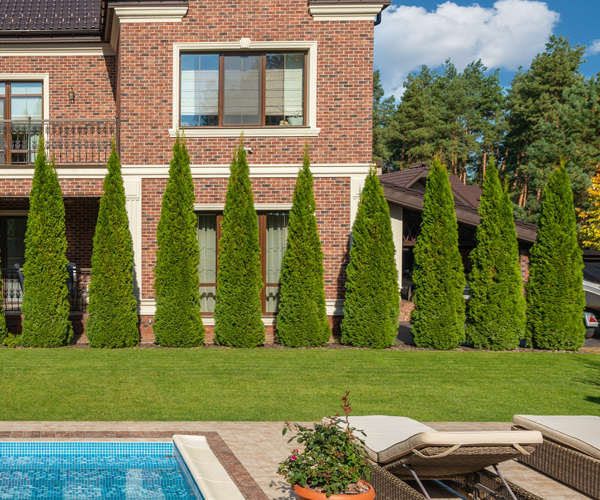 Measure

the area you will be planting your Arborvitae

  Decide what

type

of Arborvitae you want (this will determine how far apart you need to plant your trees/shrubs, which will then determine the number of trees you need)

  Plan how far apart you need to space the Arborvitae based on the type of Arborvitae you will be planting – To determine how many Arborvitaes you need, you will need to:
Divide the distance of your wall line ÷ the space from center of Arb to center of Arb that your specific Arborvitae's needs.  So for example, if your space is 50 feet wide, and your Arbs require 3 feet between each of them, you will need 16-17 Arborvitae
  Draw a quick sketch to help you visualize how your plants will look – this will also help you double check that you have the right amount of Arborvitae purchased.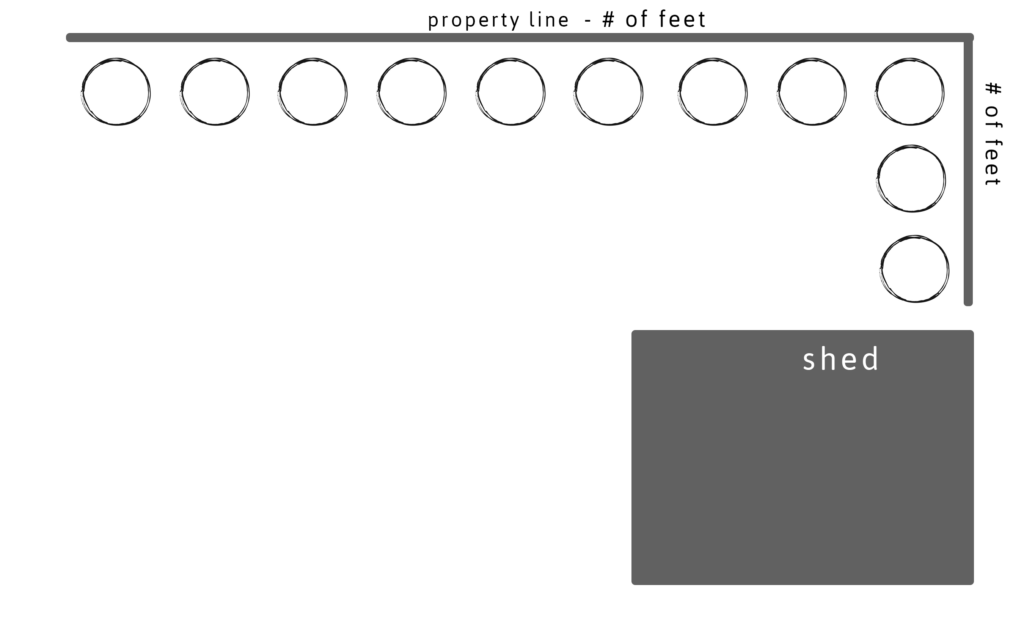 Common Questions regarding Arborvitae:
How tall do they get?
Emerald Green Arborvitae grow to 10-15' tall at maturity, with a spread (or width) of 3-4'
Green Giant Arborvitae grow to 50' – 60' tall at maturity, with a spread (or width) of 12'-20'
How fast do they grow?
Green Giant Arborvitae grows 1-2 feet per year, while the Emerald green Arborvitae grows at a slower rate and grows approximately 4 – 6 inches per year.
Do I need to water them?
Yes, Arborvitae should be watered regularly – weekly, and more often if there is intense heat.
How far apart do you plant Emerald Green or Green Giant Arborvitae:
Depends on how much privacy you want, and by type of Arborvitae.

Typically to create a full privacy fence that allows the Arbs to grow within each other, you'll want to plant the Emerald Green Arbs 3-4 feet apart from your property line, and 2-3ft away from center of each other.

The Green Giant Arborvitae should be grown 6-8 feet away from the property line, and 5-6 feet apart from each other from the center of the Arb.

Not sure where to start, or want the planting done for you?
Moscarillo's offers a delivery and planting service or Arborvitaes through our landscape department. Simply fill out our form here with your request for an Arborvitae privacy fence, and the type of Arborvitae you are interested in, and a member of our landscape team will contact you with helping set up a design or installation dates.